Multi-Storey Loadbearing Masonry Structures
Find out what makes loadbearing masonry structures stand apart from other systems in the market
Some resources to help designers and developers better understand these types of structures
Using Concrete Masonry Units (CMU) as the loadbearing material is a natural choice for multi-storey structures, especially where continuity of walls from the top storey down to the foundation is achievable. The layouts of regularly spaced, continuous walls typically allow for the structure to be well supported for all combinations of loading. When building is laid out such that the loadbearing masonry walls are also the dividing walls between units, they offers superior fire and sound transmission performance, as well as many other inherent benefits to masonry construction. Scheduling with loadbearing masonry is also extremely advantageous as there is only one trade on site. This avoids many of the delays due to communication and coordination.
The main reason for the increased demand for these types of structures is that there is a demonstrated track record that these benefits do not come at a significant cost premium. Masonry is a cost competitive alternative to wood structure for mid-rise construction while providing all the benefits of non-combustible construction and can also extend into higher-rising structures (6 to 12 Storeys) with relative ease to be a great alternative to typical concrete construction. This information has always be known to the masonry industry but with multiple different cost analyses and more loadbearing masonry buildings being built every year, people are quickly catching on that multi-storey masonry structures are an excellent design choice.
What exactly do we mean by "loadbearing masonry"?
Masonry has a number of aesthetic, durable, and practical applications in building design. This page is talking specifically about projects supported by a structure similar to what you see below:

When we are talking about a building using masonry as the "loadbearing" material, what we mean is that the walls are constructed using concrete blocks, designed and built to support the structure and resist all loads, including wind and earthquakes. Floors are typically done using hollow-core precast planks so that once the walls are built, the floors can be placed and work continues without much delay. Structural steel sections or concrete columns are not needed as long as the concrete masonry walls have been designed to support everything. Using this construction technique brings with it a number of impressive benefits.
Superior Fire and Sound Performance
By using concrete block masonry for all walls including the incorporation of what would otherwise be partitions, occupants can enjoy fewer disturbances thanks to impeded sound transmission, on top of the peace of mind in knowing that the structural elements are non-combustible and will resist the spread of fires from elsewhere in the building.
Other systems need to go far out of their way to meet code minimums which at the end of the day are still just that – minimums! Improvements in fire and sound performance come hand in hand with using loadbearing masonry.
Longer expected service life
Loadbearing masonry buildings are not prone to many of the other causes of structural degradation seen in wood frame construction. Beyond the obvious advantages such as resiliency to fire and being a more durable material overall, concrete masonry does not also act as a food source for mould growth. In cases where there is water damage (occupant dishwasher leaks while they are away and floods the unit), the loadbearing elements do not rot or weaken with moisture, mitigating damages to the overall structure after a water related incident.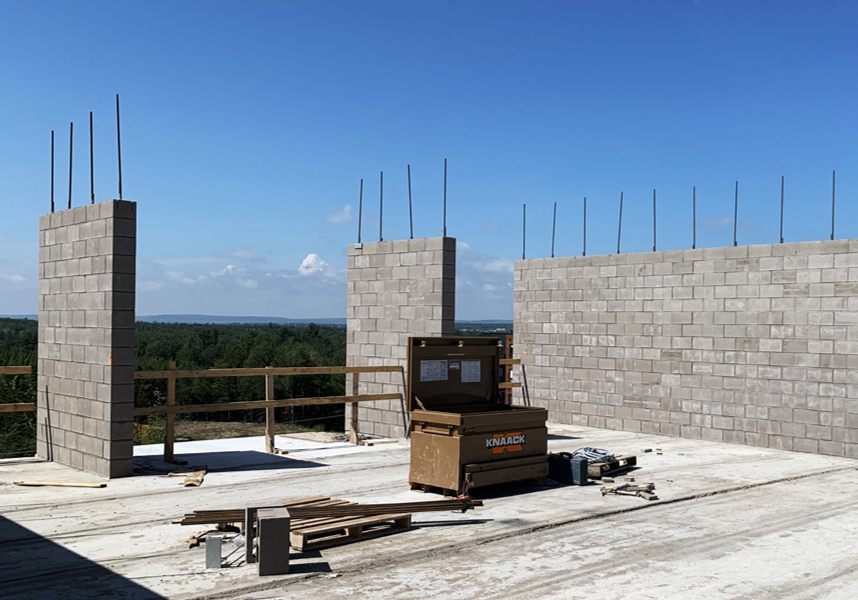 Quick turnaround with scheduling advantages
The units are typically produced locally on demand. The raw materials used for the units, as well as the mortar and grout, are readily available locally across Canada from multiple sources. As a result, masonry is less prone to the extreme price volatility seen in other materials.
Using the masonry in a building as a loadbearing system instead of just for durable partitions simplifies the scheduling and coordination process. Since the slabs for the next floor can be laid shortly after the supporting walls are completed the structure can be built and enclosed sooner!
Significant Benefits without the significant Cost Premium
An in-depth cost comparison analysis of loadbearing masonry compared to conventional building materials for multi-storey residential buildings in Atlantic Canada. The data for the study came from 3rd party Atlantic Canadian companies and was written in 2019. The results from the study prove that loadbearing masonry structures provide a safer and stronger building than conventional wood framing without the typical price increase commonly associated with concrete construction.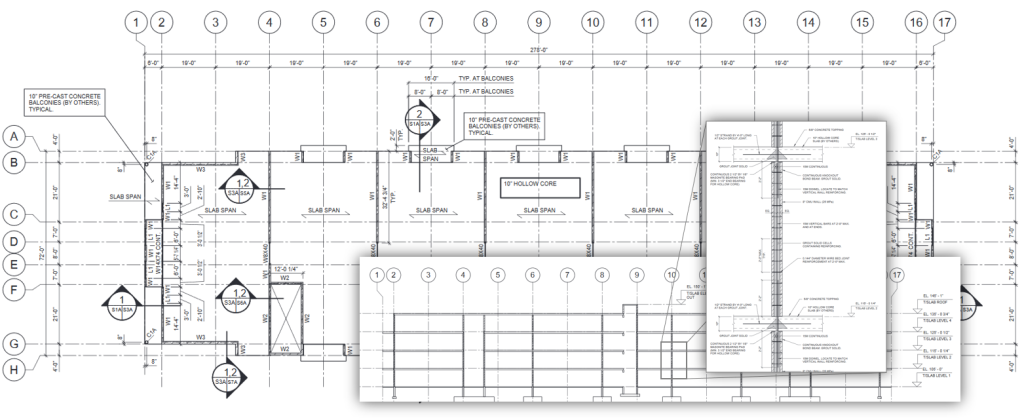 It was found that compared to an equivalent wood frame structure, there was only a 4.1% cost premium. These results were done based off actual estimates and real designs.
Other work has been done by CCMPA to compare loadbearing concrete masonry to other systems.
These benefits come with a long track record of reliability and performance
Following the cost study, a 6-storey 96-unit building was constructed in Dieppe, New Brunswick. As advertised, the masonry super structure was able to be constructed in only 21 weeks. This project proved to the local industry that loadbearing masonry was indeed as advertised and is becoming a popular method of construction.
An Engineering Crash-Course in Loadbearing Design
This is not meant to be exhaustive and is geared towards engineers who are already familiar with the basic principles of masonry design. It does not get overly technical or show many example calculations as it's aim is to provide a higher level overview of the design philosophy and assumptions an engineer would employ on a multi-storey loadbearing masonry structure.
Timestamps can be found in the video description by clicking to the video hosted on YouTube.
Important Resources for Designers
Direct Technical Assistance through CMDC Engineers
Have a technical question about masonry materials, design, or construction?
CMDC consists of a qualified team of engineers offering comprehensive technical support to the design community. Masonry contractors who are members of CMDC are also able to contact us with technical questions or concerns, saving them valuable time that would otherwise be wasted as they search for the information they need.
We offer technical assistance related to the design of masonry for both structural and nonstructural applications, codes and standards assistance, detailing of masonry, best practice techniques and access to state-of-the-art research results. When required, CMDC has attended many site visits regarding issues with as-built and ongoing masonry projects.
Masonry Design Software - MASS
When it comes to the calculations in the engineering design process, CMDC has collaborated in a joint partnership with CCMPA to create the MASS Design Software (Masonry Analysis Structural Systems).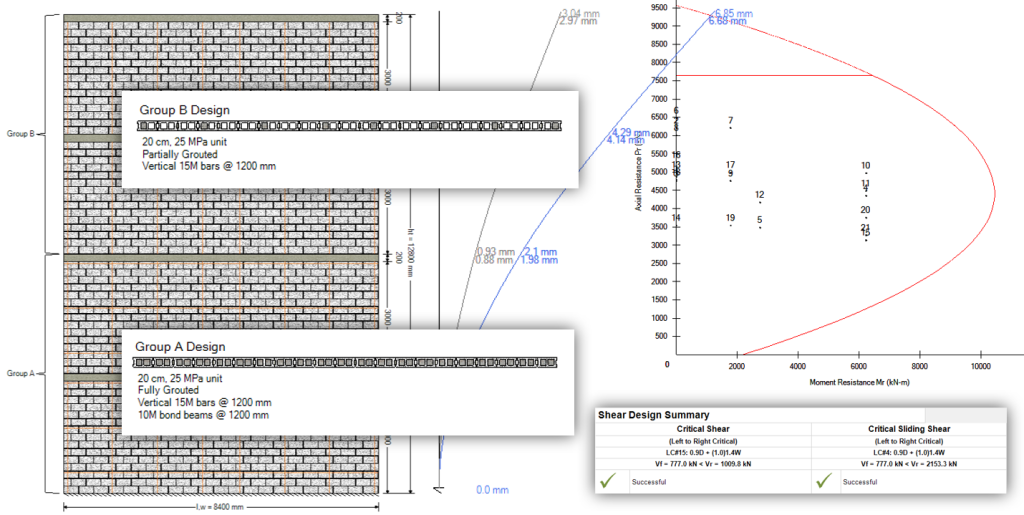 This design software package, MASS, is tailored specifically to Canadian engineers and has the ability to handle the design calculations and checks from Canadian Codes and Standards.
MASS has modules specifically for:
Beams spanning over openings
Walls bending out-of-plane including design for slenderness and secondary effects
Shear walls used for resist high wind and earthquake loads
Engineering Textbook - Masonry Structures: Behaviour and Design
Our engineering textbook provides a comprehensive background on masonry materials, design, and construction practices. The textbook also contains several design examples and serves as an extension of CMDC technical support for the design community.
A more exhaustive list of topics and subjects covered can be found on the textbook page.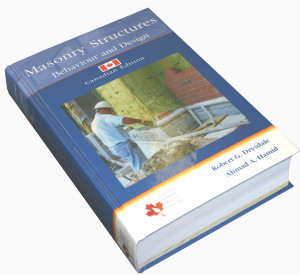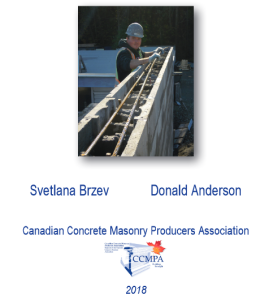 CCMPA has also published a seismic technical design guide that is available as a complimentary resource on their website. It also includes helpful design examples.
Still have Questions? Contact us for more information
Do not hesitate to get in touch with CMDC regarding the feasibility of loadbearing block construction for your next development! We are a team of qualified engineers with experience in the masonry industry who can weigh in on whether concrete block is suitable for a project you have in mind.