Teaching Engineers about Masonry Design since 2003
The CMDC takes great pride in helping to educate the engineering community regarding the ins and outs of masonry design. Our most popular course has been the EMDC outlined below but if there is enough interest, we will investigate running an advanced masonry design course as well.
Engineered Masonry Design Course

The EMDC equips you with the tools and knowledge to design masonry confidently, effectively and efficiently. It has been offered to nearly 400 practicing engineers in Canada and is roughly equivalent to a 4th year undergraduate course in both scope and workload. We have been able to offer the course in a condensed format in order to reduce the total number of in-class days. If you are interested in getting some more information, please do not hesitate to get in touch with us so we can let you know about courses being offered in your area. They are planned and run based on interest and feedback from you so please contact us if you are interested.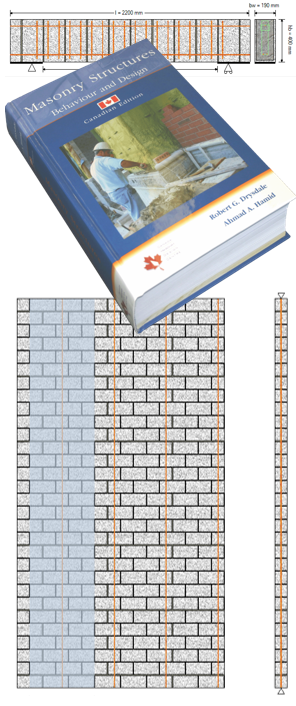 The EMDC covers the following material:
Relevant Masonry Codes and Standards
Introduction to Masonry Materials
Overview of Concrete Masonry Units
Overview of clay Brick Units
Basic Design Principles
General Behaviour of masonry Assemblages
Beam Design with examples done by hand and using the MASS software
Shear Wall Design with examples done by hand and using the MASS™ software
Requirements for Movement Joints and Construction Considerations
Design of Walls for Axial and Out-of-Plane bending with examples
Examples using Reinforced and Unreinforced Masonry
Design of Single Storey Masonry Buildings with Design Example
This course has been created for designers that are knowledgeable in reinforced concrete design in order to quickly teach them the design of masonry elements. It is important that those who wish to enroll in this course have a good understanding of fundamental concrete analysis and design, structural mechanics and mechanics of materials, as well as a basic understanding of loads determination in accordance with the National Building Code of Canada.
General Information
Since these courses are planned based on interest and by request only, specific details about potential courses are not set in stone. However, for planning purposes and to give you a general idea of what to expect, course estimates are outlined below:
Location
Courses that have been run for engineers in southern Ontario have been hosted at our head office located in Mississauga. Courses that have been run elsewhere have been hosted in rented meeting spaces but if your office is able to provide a suitable space, it can help keep costs down.
Date and Course Duration
The CMDC is fairly flexible when it comes to choosing dates. Please let us know when you would be interested in attending or hosting a course to start the process. We generally try to not let a course span more than a month and a half from first session to when the final submission is due.
There are multiple scheduling formats that have been used in the past, ranging from several evening sessions spaced over a few weeks to a condensed format that runs through all of the material over 2 weekends using a Friday evening and full day Saturday for each.
The hands on component may only be available if it is not too far away from the Ontario Masonry Training Centre. All Mississauga EMDC offerings in the past have included a hands on evening which is very highly reviewed by the participants.
Cost
The cost per person to take the EMDC is around $950. While not guaranteed, we have been able to offer contractor funded sponsorships in the ballpark of $300 per person, bringing the cost down to $650.
The CMDC does not run courses to make a profit and the cost is simply intended to cover costs and expenses.
In addition to instruction regarding the topics outlined earlier within this page, the cost also includes:
a copy of our textbook: Masonry Structures, Behaviour and Design by Drysdale and Hamid
an evaluation copy of the masonry design software, MASS
food and beverage during all in-class sessions
comprehensive feedback during tutorial sessions on example problems worked on in a group setting
a possible hands on evening where a masonry apprentice instructor shows you how to lay units
Course Requirements
The EMDC covers masonry design at a final year undergraduate level university course. All course participants should have a firm grasp on the concepts and design philosophies used in reinforced concrete design. Feel free to contact us if you have any questions or concerns regarding prerequisite knowledge.
In order to successfully complete the EMCD, all participants must finish with a final grade of 60% or higher. Upon completion, you will receive a letter with your final standing (pass/fail) as well as your grade. If you are successful, you will also be sent a framed certificate from the CMDC.